SEO or search engine optimization is no doubt now the bare essentials when it comes to digital marketing. SEO helps make sure that your website or online business is optimized for search engine traffic. When it comes to any business, it is crucial that you attract your target segment to make sure that there is synchronicity between what you as a business offer vs what the customers are exactly looking for.
In the vast dense jungle of the Internet, it has become more and more crucial that you optimize your websites perfectly to let your customers know what exactly you are offering and rank in the search results when someone searches for it. However, given the stiff competition for search engine results, you as a business owner have to make sure that your site, content, or business is optimized up to the best possible level, so that you can continue to surface for user's search results.
To optimize for SEO, various SEO tools or Search Engine Optimisation software are available. These tools have been proven powerful in the digital marketing industry to make sure you hit the right buttons to best optimize your site for the right search queries used by your potential customers or visitors. Let's have a look at what exactly SEO tools or software do.
What is SEO tool?
SEO tool or SEO Software is a tool that is commonly used by search engine optimizers to analyze keywords, search engine rankings, links from other sites, and features that optimize one's website for search engine results.
SEO tools are offered by many providers like Moz.com, Spyfu.com, Ahrefs.com, SEMRush.com etc and each has its unique selling point or feature. At its core, an SEO tool helps the site optimizing team, to analyze various pointers which could help his or her site rank higher in the search result. Most of these tools have also built their databases to further provide analysis as compared to the competition out on the Internet.
SEO tools are now also scaling up to include various search engines including the likes of YouTube and Amazon for example. To further understand SEO tools, let's have a look at what SEO tools do in general.
What does SEO tool do?
Believe it or not, most of the discovery of online businesses by new potential customers, happens via search engines. If one has to look up anything, it has become a second nature for many to pull up their phones or computers and Google/ Bing or YouTube search them. When one searches for something over the Internet, ideally one ends up just typing a few words for the intended search. These few words are popularly known as 'Search engine Keywords'. Based on these keywords, the search engine analyzes the intent of your search and display appropriate results.
E.g., Let's assume, you searched for 'Mercury'. Now 'Mercury' could mean the element Mercury or the planet Mercury! Well, believe it or not, search engines are now smart enough to guess what type of 'Mercury' one was referring to, based on various other data points. Now, flipping to the other side suppose your website was dedicated to Mercury the element. How would one make sure to optimize your website content in such a way that the search engine understands that your site or site page is referring to 'Mercury' element and not 'Mercury', the planet? You might need to include more keywords in your content and the site? How about describing the page with an appropriate description of the element 'Mercury' and how about search engine optimized title? What keywords should be best used?
Helping you check all those boxes for the best keywords could be a job best helped by SEO tools.
SEO tools do not stop there. SEO tools also help you analyze the best keywords you could rank for, the potential search volumes on multiple search engines over a given period, and the difficulty to rank amongst other competition.
'Page-Rank' is a term popular amongst Google's Search engine Algorithm enthusiast. According to this algorithm, a website or article which is popular for a certain topic is most certainly referenced by various other websites. i.e., Various websites have links to popular pages on other sites. These are referred to as 'links' or more popular 'backlinks'. SEO tools also help one analyze these external links to a certain page or site as it is known to be a ranking factor in Search engine rankings.
DA or 'Domain Authority' is another popular term which refers to how authoritative is a certain websites' domain. Higher domain authority websites are ranked higher in search engines compared to lower DAs. DA is also a logarithmic factor- meaning it is far easier to increase your site's DA from 1 to 10 than from 50 to 60. DA's are also popularly ranked and monitored under search engine tools.
Advertising in Search engine results is a very popular option amongst some businesses. Some tools help you link these tools and measure the performance of your paid ads against other SEO factors as well.
With all these offered features, SEO tools ramp up one's SEO efforts and help manage search engine optimization tasks. SEO tools are a much-needed asset for online businesses.
Key features of SEO tool to look for.
It is not uncommon for businesses to invest in a search engine optimization tool or two. But when you are trying to decide on your first or maybe adding another SEO tool to your list, what features should you look for? What key features does an SEO tool offer? Let's have a look at how you can use each of these features to optimize your site.
On-page Audits
Along with DA or Domain Authority, PA or Page Authority is an important factor in SEO. In other words, a single page of a site must be well audited for SEO as that is what's judged by search engines when they decide to show it up in the results.
A Page-well audited for SEO is your first step towards making sure you have pulled out the basics of SEO. A good SEO tool must allow its users to audit various pages for ranking factors. One can go ahead and manually check all the basic requirements on pages, but having a tool, could help you crawl multiple pages and provide you reports of page audits.
A good page-audit feature in an SEO tool must help you check on various features such as:
Length, content, keyword relevancy of your meta title.
Length, content, keyword relevancy of your meta description.
Missing meta tags on the page.
Other tags such as href-langs or canonical tags.
Header tags (H1, H2, H3, H4, and so on..) optimization.
Keyword relevancy, keyword density, etc of the page for the target keyword.
The page's readability score.
Images and alternate texts for the embedded images.
SEO tools have various plans, and under some lower premium or free plans, often there are limits on the number of pages that can be crawled per month. When zeroing down on an SEO tool, it would be a good idea to check if the offered crawled pages for audits are sufficient for your business use case. ScreamingFrog and DeepCrawl are great tools for on-page audits.
Keyword research
While searching on search engines, not all users type the same keywords to get to a certain result. In other words, there are various keywords a website's page could rank for under the same parent topic.
For example, Consider if a user is shopping for a low-end mobile phone. Some users might type in 'cheap mobile phones' in the search query, whereas others may type 'mobile phones under 100 dollars'. These are two different keywords and may yield different results for specific search queries. A good search engine optimizer should make sure the page or site ranks for many relevant keywords as possible.
Often, while creating SEO focused content on websites, webmasters or optimizers end up focusing on a single topic. A good SEO tool should help one see the various point of view on the same topic. I.e, list various possible keywords for a seed keyword.
Now, Not all suggested keywords would be worthy. Some keywords are searched in large volumes and usually have heavy traffic, whereas few others are searched in very low volumes and may have lower traffic potentials. An SEO tool must provide its users with information on potential search volumes, traffic potential, ranking difficulty etc, so that well-informed choices can be made.
Competition analysis
Just like search engines, some SEO Tools crawl lots of other sites and gather information on them. This information help SEO tools build data related to ranked keywords, search engine ranks, etc. This can help the subscribed users compare their sites against various competitors.
SEO tools that help you compare against competitors can then further help you build a better strategy towards your content.
Social Media analysis
Social media presence is an important factor for certain business verticals. Analyzing Social media data such as shares, likes, retweets, pins, etc might also be helpful for some businesses.
The search engine also seems to include social share stats as a ranking factor for some businesses. Social shares help prove engagement of content, the popularity of websites, etc, and could be a ranking factor.
A good SEO tool should help you analyze content and traffic from Social media channels.
Other SEO Metrics
DA or Domain Authority and Page Authority or PA are ranking factors used by Moz.com and refer to the authority of the domain or the specific page. DA being logarithmic is difficult to increase as it moves higher up the scale.
Domain Authority and Page Authority are good ranking factors and tools such as Moz include them in the SEO tool to further analyze them. Links from higher domain authority sites are also known to contribute more towards the authority of the target page. As such, SEO tools with DA and PA data can be helpful to analyze your incoming links.
Majestic on the other hand provides data like Trust Flow and Citation flow which indicate the quality of a backlink and the quantity of backlinks from referral sites. These SEO metrics from such SEO tools can be helpful to further fine-tune one's Search engine optimization.
SERP Rankings
SERP stands for Search Engine Results Page and SERP rankings are an important factor that determines incoming organic traffic to a site.
As the old goofy saying goes- The popular place to hide a dead body is on the second page of Google, ranking a site or page on the first page, and further up in the results make a big impact on the incoming organic traffic.
As such, good SEO tools should help you monitor the rankings for the main keywords of your business domain interest as well as your site's pages.
Integration with other tools
Many businesses use multiple other strategies when it comes to digital marketing. Paid Ads using Google's Adwords is a potential candidate.
When it comes to the overall impact of your digital strategies, if your SEO tool can integrate well with tools such as performance metrics from Google's Adwords, etc would be a nice feature to have. A one place view where you can slice and dice the data further would give one a better insight.
Cost of owning an SEO tool
Most popular SEO tools offer multiple plans. To generalize across various tools, they can be classified as the likes of Individual plan, Team plans, and Enterprise plans.
Individual plans are targetted towards a single user or two for a handful of websites. These usually range from 80 to 100 USD a month. Options to add more user seats may be offered by some.
On the other hand, Team plans are targetted towards a larger digital team and offer multiple user seats by default. The number of metrics and their corresponding limits that can be measured vary from plan to plan.
Enterprise plans are also offered as customizable plans, that can be catered to an organizations need.
Based on the selected plan and one's needs, an SEO tool can cost anywhere from 80 US$ a month to 1000 US$ a month.
Recommended SEO tools
Now given that we know the various reasons to use an SEO tool, let us have a look at the popular and recommended SEO tools.
SEMRush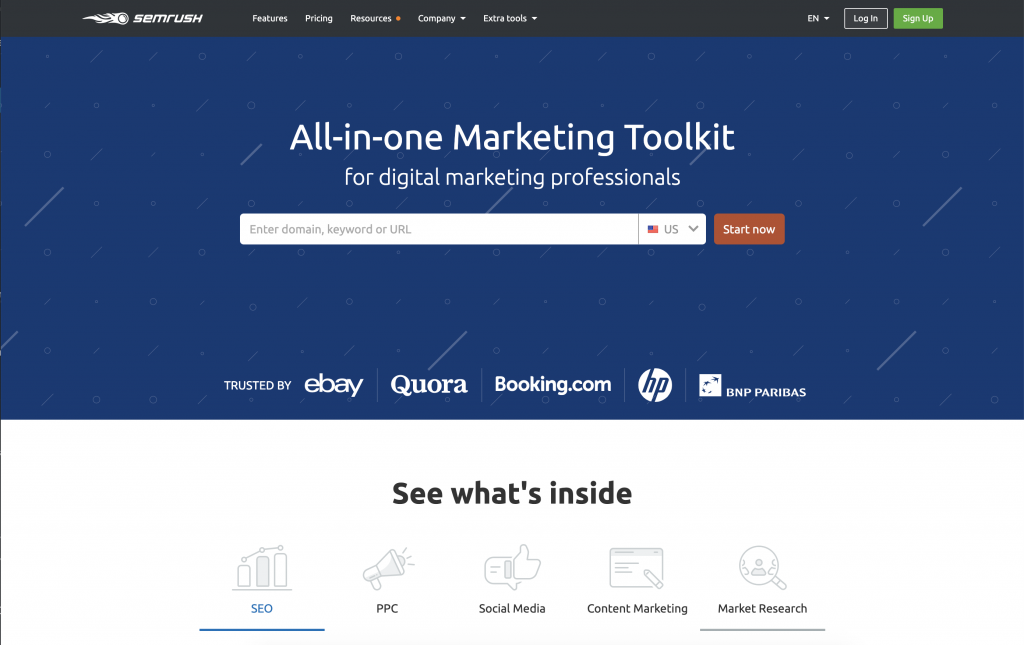 SEMRush is a very popular SEO software or tool that offers many features in one place and boasts about usage by 5 million users. SEMRush has processed huge amounts of data over the web accumulating 19 billion keywords, about 140 geodatabases, and close to 800 domains.
SEMRush is quite extensive on its offered features.
The main features include:
Analytics Reports: Offers insights of strategies including competitors display advertising, organic, paid search and link building
Advertising Research & Display Ad tool: Analysing digital ads and budgets, Analyse competitors display ads, publishers, audience targeting, etc.
Backlink Analysis: Deep analysis links, Domain authorities of linking sites, geolocation, link types, etc.
Keyword research: Finding the right keywords for your SEO and PPC campaigns, phrases, and other related keywords, long-tail keywords, multinational and multilingual environments.
Product listing ads- For e-commerce focused sites
Traffic Analysis: Analyse traffic and online performance, including competitors. Discover markets and niches etc
SEMRush is a quite comprehensive tool based on its features and offers three plans namely, Pro, Guru, and Business Plan. The Pro plans cost about 99 USD per month and include 1 user and about 3 projects or sites. You can add an extra user to the Pro plan. The Guru plan includes 15 projects, allows 1 user with an extra addition of 2 seats, and will cost you about 199 USD per month. The higher Business plan costs about 399 USD per month and includes 25 projects, 1 user, and an additional allowance of 9 users.
SEM Rush also offers a discounted pricing if paid annually. One can also try SEMRush for free.
Ahrefs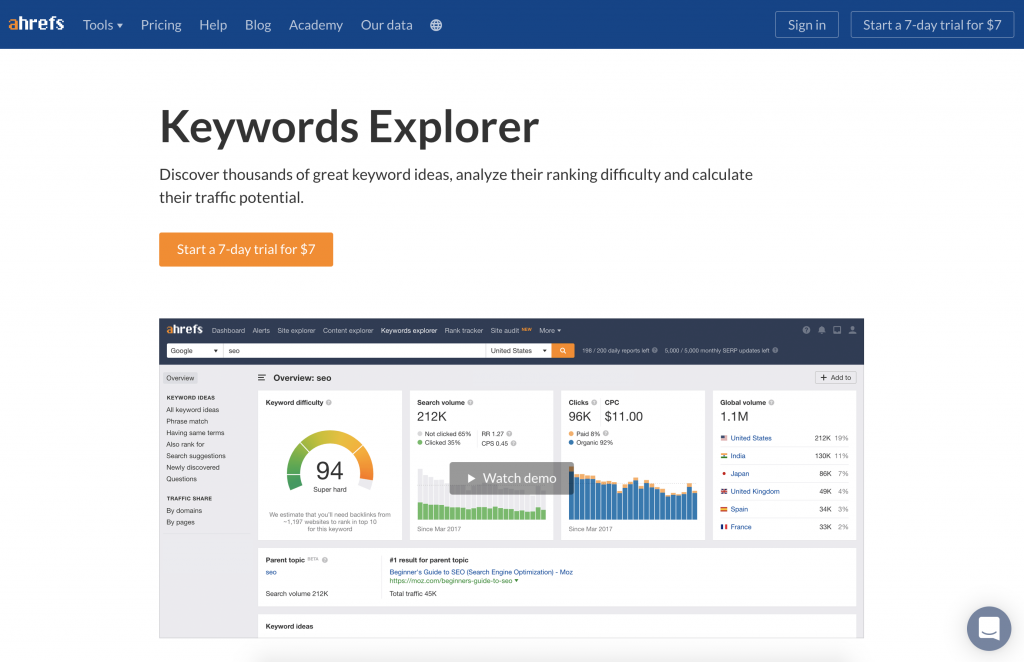 Ahrefs is another popular tool in the SEO industry and a fierce competitor to SEMRush and also offers many extensive features on its plans. Ahrefs is excellent for backlink analysis, Keyword ranking as well as competitors backlinks analysis.
Ahrefs also helps you strategically approach your backlink profiles as compared to your competition and thus gain a higher rank in the SERPs. Ahrefs provides the below tools and features.
Site Audit: Helps you with on-page analysis of the site and find out issues that might be holding your site back.
Site Explorer: Helps you study any websites for its organic traffic and backlink profile.
Keywords Explorer: Helps you analyze as well as discover various keywords, their ranking difficulty, and potential estimated traffic from various search engines like Google, Bing, Yahoo, Amazon, Youtube, etc.
Content Explorer: Helps you discover top-performing content in your niches.
Rank Tracker: With this tool, you can monitor your rankings over time against your competitors as well as get alerts of such in your inbox.
Ahrefs offers four plans, namely- Lite, Standard, Advanced, and Agency.
Lite version costs 99 USD per month and offers 1 user seat and covers 5 projects. Extra users and projects can be added at a cost. The standard version costs 179 USD per month and offers 1 user seat and 10 projects. The advanced version will include 25 projects and set you back 399 USD per month whereas the Agency version will set you back 999 USD per month and offers 5 default users with about 100 projects.
Ahrefs offers a trial version for 7 dollars.
Try Ahrefs Plan for 7 Days @ 7 USD
Moz
Moz.com is a popular SEO software as well which offers many features similar to SEMRush such as keyword research, rank tracking, backlink analysis, listing management, etc.
Moz is popular amongst online marketers, however, the keyword research tool seems to have lesser data than SEMRush in comparison. One can check the various features and suitability as moz does offer a 30-day trial.
Moz offers four plans, namely- Standard, Medium, Large, and Premium. These will cost you 99 USD, 147 USD, 249 USD, and 599 USD per month respectively. Moz also offers an Enterprise plan on inquiry.
Serpstat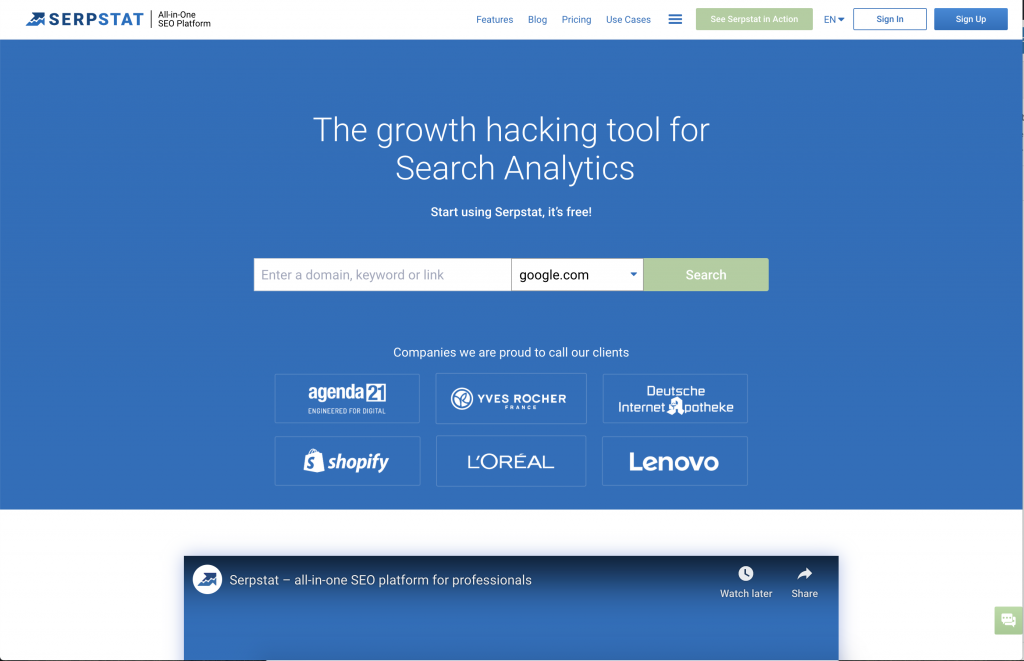 Serpstat is another good competitor to SEMRush and costs lesser than SEMRush. Serpstat allows higher keyword volume tracking as compared to SEMRush. For cost-effective or for teams on a tight budget for Keyword research, Serpstat could be a better cheaper alternative.
The features offered by Serpstat include
Keyword Research
Search analytics
Advertising analytics
Content market ideation
Competitor research
Rank tracking
Market Intelligence
On-Page Audit
Reports and Infographics
API
Backlink analysis
Serpstat offers 4 plans as well as a custom plan for big enterprises. The 4 public plans include Lite, Standard, Advanced, and Enterprise. These cost 69 USD, 149 USD, 299 USD, and 499 USD per month respectively.
Serpstat also offers a 20% discount on their annual plans.
SERanking
SERanking is another popular SEO tool that focuses on being all-in-one SEO software.
SERanking provides "real-time ranking positions" and lets you track rankings on a country/region or city level as frequently as the user wishes.
The features of SERanking include:
100% accurate keyword rank tracking
SEO/PPC Competitor Research tool
In-depth website audit
Backlink checking & monitoring
Page Changes Monitoring
On-Page SEO Checker
Keyword Suggestion Tool
Marketing Plan
Social media management
SERanking is way cheaper compared to other top competitors and offers three plans named Optimum, Plus, and Enterprise.
SERanking's Optimum plan costs about 39 USD a month and lets you track 10 websites and 250 Keywords rank tracking. The most popular Plus plan costs about 89 USD a month and includes unlimited websites and 1000 Keywords rank tracking. The enterprise plan costs 189 USD a month and helps you rank track 2500 keywords.
The pricing of these plans can be further reduced based on keyword ranking check frequency. If you set up your plan to check the rankings every 3 days instead of daily, a further 20% off can be availed on the plans. A weekly check will yield you a further 40% discount on the monthly daily check plans.
KWFinder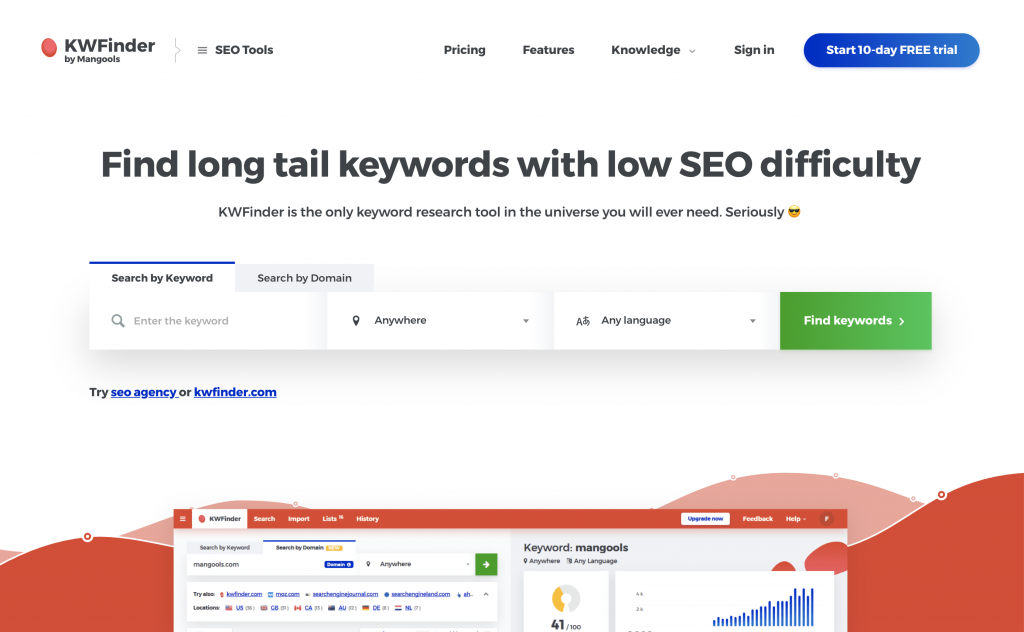 KWFinder is an excellent tool that focuses on finding long-tail keywords with low SEO difficulty.
One of the basic strategies followed in digital marketing is to target low competition and high volume long-tail keywords. KWFinder focuses largely on this strategy and helps you find the best keyword to focus your content on. KWFinder is well known to be quite intuitive to use.
The features of KWFinder include:
Finding hidden long-tail keywords
Finding competitor keywords
Local keyword research
Accurate Keyword difficulty
Search volume and keyword metrics
Google suggest keyword source
SERP analysis and SEO metrics
Keyword planner
Keyword management- organization, filters for nonprofitable keywords etc.
KWFinder offers three plans namely Basic, Premium, and Agency which costs 49 USD, 69 USD, and 129 USD per month. On Annual plans, KWFinder offers a further 40% discount. KWFinder also includes a free 10-day trial.
Long Tail Pro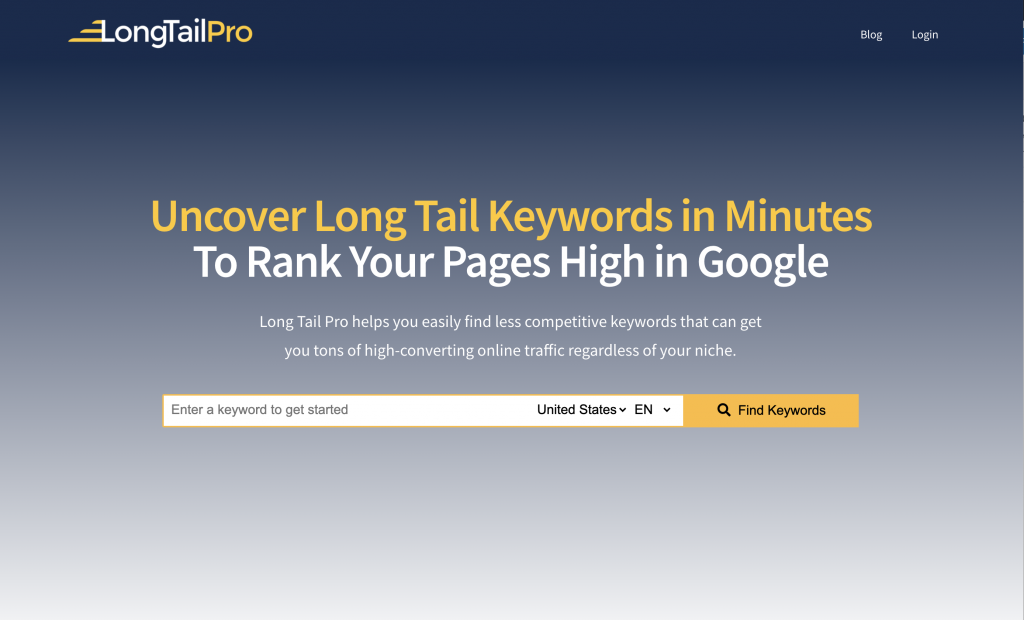 Long Tail Pro is a keyword-focused SEO tool at a very affordable price. Long Tail Pro focuses to uncover long-tail keywords to help you rank on search engines.
The features included in Long Tail Pro are:
Keyword lookups every 24 hours
SERP lookups every 24 hours
Tracked Keywords
Tracked Domains
Rank Updates
Long tail pro offers three plans and they include Starter priced at 37 USD per month, Pro priced at 67 USD per month and the Agency plan is priced at 147 USD per month. The annual plans have further discounts as well.
Long Tail Pro also offers a 10-day money-back guarantee on all plans.
Accuranker
Accuranker is a keyword-focused SEO tool that markets itself as the world's fastest and most accurate keyword rank tracker.
Accuranker's users can track and monitor the SERP positions of multiple keywords and search terms that drive traffic to their sites. Accuranker's keyword-focused tracking offers more keyword tracking features at a better cost as compared to other tools that provide all SEO features.
Accuranker's features include:
Instant On-demand and daily updates of keyword rankings
SERP History to understand the results of your SEO strategy and fine-tuning them.
In-depth analysis of ranks
Unlimited domains and users
Third-party integrations with API, Google Analytics, Data Studio, Sheets, Adobe Analytics, etc.
Accuranker offers a single Monthly plan priced at 109 USD per month and a 10% discount on its annual counterpart which boils down to 99 USD per month. These accounts are for unlimited domains and users.
Accuranker also offers a 14-day free trial.
Majestic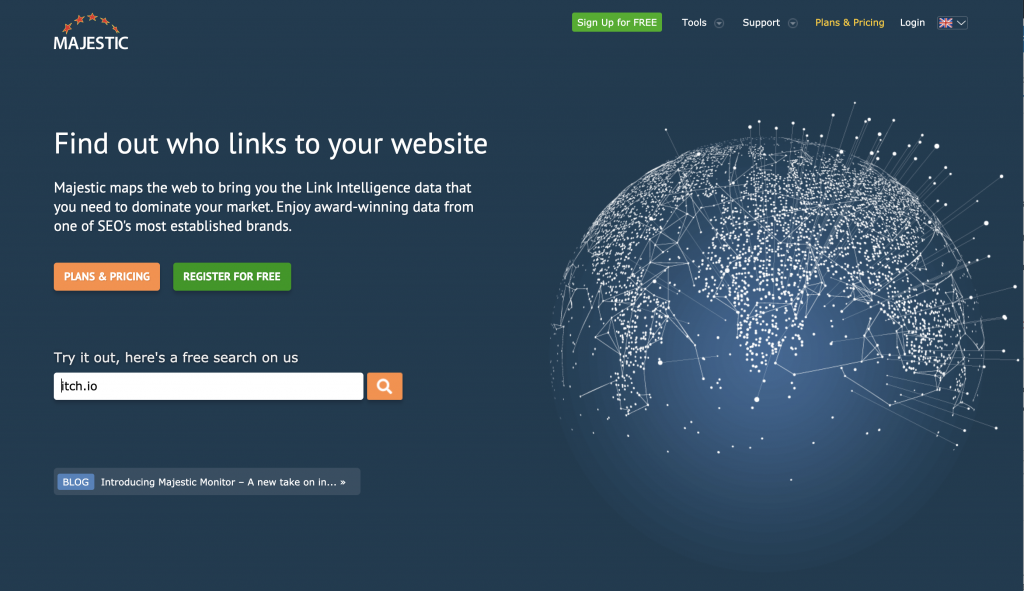 Majestic is a backlink focused SEO tool and helps users find out who links to their websites. It has an enormous intelligence data on web indexes. Other SEO tools have also known to be using this database behind the scenes.
Majestic's backlink tools are advanced and help you further deep dive into your backlink strategy. It also provides information like the keywords your site is trusted for and their quality.
Majestic offers three plans namely Lite, Pro, and API which costs 49.99 USD, 99.99 USD, and 399.99 USD per month. The Lite and Pro plans also offer a 7-day money-back guarantee for new customers.
Deepcrawl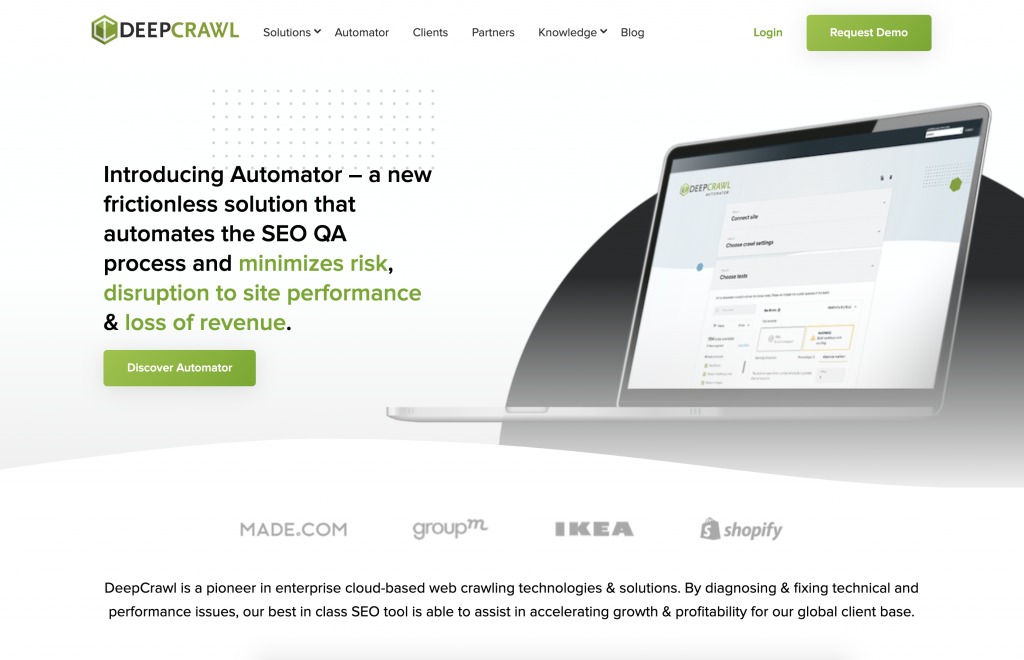 If you are seeking an SEO tool that crawls the website and analyses parameters that impact your site, then Deepcrawl is a great tool to consider.
Deepcrawl is a cloud-based web crawler that you as a user controls. Crawling sites will help SEO auditors analyze website architecture, monitor technical issues and ultimately improve the SEO performance.
Some of the use cases based on DeepCrawls features are:
Auditing your whole web site.
Site migration, redevelopment migration.
Link Auditing
Competitor Intelligence
Landing page analysis
Website optimization
DeepCrawl offers a version for individuals and medium-sized businesses. The three plans are Light, Light Plus, and Enterprise.
DeepCrawl's Light version allows 1 project with limits of 10,000 URLs per month and costs about 14 USD / month. Light Plus version costs 62 USD per month, allows three projects, and has a limit of 40,000 URLs per month. Enterprise plans can be customized as per demand.
Annual plans further includes two months of free access.
Screaming Frog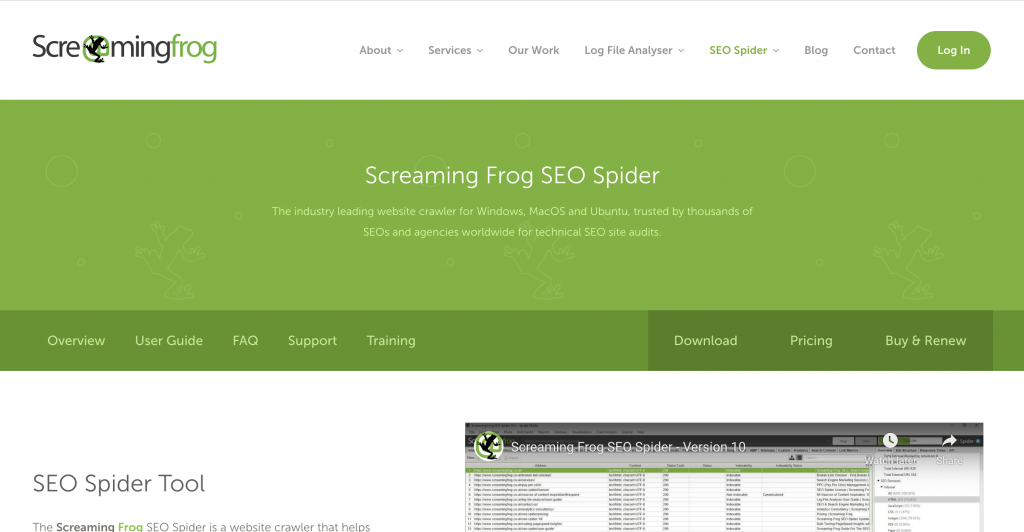 ScreamingFrog is an alternative to DeepCrawl and also operates on the domain of crawling your sites to identify SEO issues.
ScreamingFrog is also a desktop-based crawler as compared to DeepCrawl. ScreamingFrog markets itself with the below features.
Finding Broken Links
Analyzing Page Titles and Page Meta Data
Auditing redirected URLs
Finding duplicate content on the site
Analyzing and reviewing robots.txt file
XPath Support to extract data.
XML sitemaps generation
Crawling Javascript websites
Integration with Google Analytics, Search console, Page Insights API, etc
The free version of ScreamingFrog has a limit of 500 URLs whereas the paid version allows unlimited URL crawls subject to memory and storage of your device.
The paid version of Screaming frog costs 149 £ a year.
SpyFu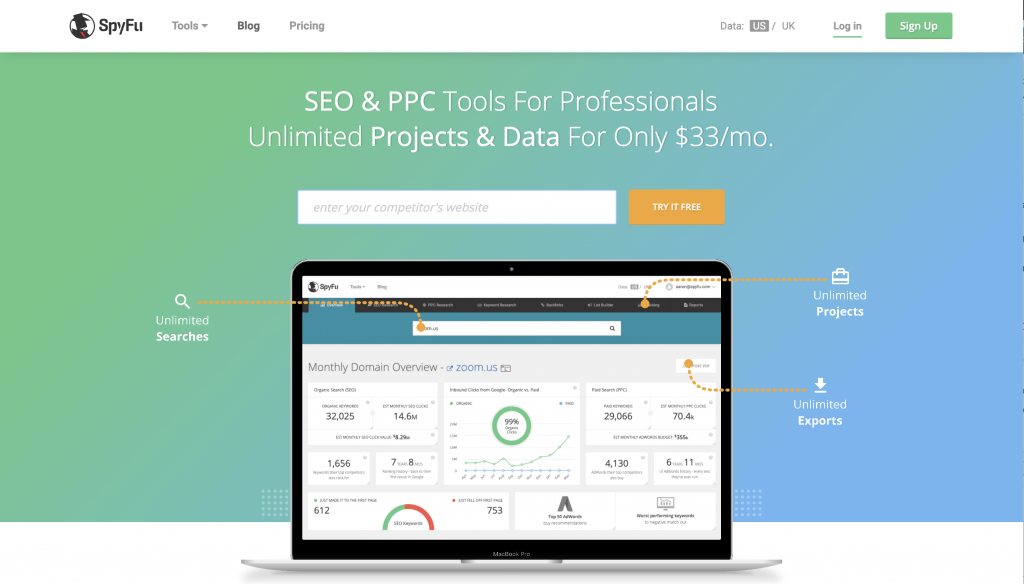 Spyfu is another popular competition intelligence tool used in the SEO space. Spfyu analyses various SEO points for a competitor website, as well as helps one monitor the keyword spends, organic ranks, and all ad variations in the last 14 years. This helps businesses monitor their competition on the SEO front and help everyone optimize further.
Spyfu offers a broad range of features under the broad category of Competitor's PPC Research, SEO Research as well as Keyword Research tool.
The features offered are:
Google Adwords Competitor Keyword Spy tool
Find Competitors Keywords not under your purchase basket
Monitor PPC Competitors to watch out who all are competing in this space
Adwords Advisor recommends profitable keywords
Monitor and check Competitors Campaigns and Ad Test history
PPC Negative match recommendations so that you don't make the same mistakes as your competitors
PPC Ad Rank Tracking
Research competitors SEO Keywords
Complete Keyword ranking history
Check competitor backlinks
Track competitor SEO Keywords ranking
PPC and SERP Analysis
Adwords Keyword Advice
PPC Test Ad winners and losers
Spyfu offers three plans namely, Basic, Professional, and Team. All of these plans offer unlimited search results the main difference being the number of reports that can be run.
The Basic plan will cost one 39 USD per month or 33 USD per month on an annual plan whereas the Professional plan is priced at 78 USD per month and 58 USD per month on an annual plan. The professional plan's first month is also discounted at 39 USD per month.
The team plan is priced at 299 USD per month or 199 USD per month on an annual payment plan.
Spyfu also offers a 30-Day Money-Back Guarantee.
Strategy to select SEO tool for your business
Given the various options out in the market for SEO tools, it is quite easy to fall into a "choice-paralysis" situation. How would one go about selecting the best SEO tool in such a condition? The below-deciding strategies could be used to zero down on your SEO tool selection.
Current Phase in your SEO strategy
This strategy is for SEO users who are just getting started with their SEO projects. With new projects, the main concern, in the beginning, is usually related to getting the content or website up in the eyes of the search engine. As such, planning your SEO strategy timeline is vital to have a focused execution of your SEO plan.
In such a case, requirements and usage of tools like link analysis or deep crawling etc are far into the SEO execution timeline. If one does not need all the tools offered by an exhaustive SEO tool in the beginning, one could just focus on getting the bare essentials and save some cost. When the project gets bigger, and if more features are required one could easily switch to a different SEO tool.
Use case
Using long-tail keywords with less competition and higher traffic is one of the prominent strategies of SEO developers. In some very competitive niches, a tool to help to find the right keyword is very desirable.
However, on the other hand, if one is operating is an easy noncompetitive keyword niche, it would be okay to get away with less featured SEO tools.
Based on certain use cases, one could filter out the heavy tools or just focus on one to rule them all.
Features offered by the SEO tool
When it comes to professional SEO master or the seasoned ones who need the best of all to ace every single touchpoint of SEO, a very good well-featured SEO tool would be recommended.
It is not uncommon in the SEO industry to own multiple SEO tools to get the best results from a tool that is focused on a certain feature.
If you are a professional SEO auditor you might want to consider well-featured tools or a two.
Price factor or SEO tool budget
Price is a factor when it comes to choosing the SEO tool. SEO tools are expensive for some of us budget-conscious consumers.
By comparing the features needed v/s offered and the price, we could try and zero down on certain tools. If your SEO strategy does not foresee to use exhaustive features of the tool, you could always opt for the lower-priced tools and then switch to others when the need arises.
Price Comparisons of SEO tools
Given the expensive pricing of SEO tools, let's have a comparison of the most popular ones along with the price you would per day of use.
SEO tools Price comparison chart- Monthly vs Daily
Monthly Prices (US$)
| Tool | Plan1 | Plan2 | Plan3 | Plan4 |
| --- | --- | --- | --- | --- |
| Accuranker | 109 | NA | NA | NA |
| SEMRush | 99 | 199 | 399 | NA |
| Ahrefs | 99 | 179 | 399 | 999 |
| Moz | 99 | 147 | 249 | 599 |
| SerpStat | 69 | 149 | 299 | 499 |
| Majestic | 49.99 | 99.99 | 399.99 | NA |
| KWFinder | 49 | 69 | 129 | NA |
| SERanking | 39 | 89 | 189 | NA |
| SpyFu | 39 | 78 | 299 | NA |
| LongTailPro | 37 | 67 | 147 | NA |
Average Cost Per day based on Monthly Prices–(30 days) US$
| Tool | Plan 1 | Plan 2 | Plan 3 | Plan 4 |
| --- | --- | --- | --- | --- |
| Accuranker | 3.63 | NA | NA | NA |
| SEMRush | 3.30 | 6.63 | 13.30 | NA |
| Ahrefs | 3.30 | 5.97 | 13.30 | 33.30 |
| Moz | 3.30 | 4.90 | 8.30 | 19.97 |
| SerpStat | 2.30 | 4.97 | 9.97 | 16.63 |
| Majestic | 1.67 | 3.33 | 13.33 | NA |
| KWFinder | 1.63 | 2.30 | 4.30 | NA |
| SERanking | 1.30 | 2.97 | 6.30 | NA |
| SpyFu | 1.30 | 2.60 | 9.97 | NA |
| LongTailPro | 1.23 | 2.23 | 4.90 | NA |
*As listed on the respective websites at the time of composing this article.
**Avg. cost per day is based on 30 days a month.
Annual discounts on SEO tools
| Tool | Marketed discount on annual plans |
| --- | --- |
| Accuranker | 10% discount |
| SEMRush | Save 16% |
| Ahrefs | 2 months free |
| Moz | Save 20% |
| SerpStat | Save 20% |
| Majestic | About 15% discount |
| KWFinder | Save 40% |
| SERanking | Offers discount based on rank check frequency |
| SpyFu | About 15% discount |
| LongTailPro | About 30% discount |
Quick Comparisons of SEO tools
Now that we know the various features of these tools, as well as the price comparison, glancing at the quick features in the below table, might further help one make an informed decision.
| Tool | Best for |
| --- | --- |
| SEMRush - Try SEMRush for Free | All-in-one Marketing Toolkit, KW Research, Competitive analysis, Excellent KW ranking monitor |
| Ahrefs- Try Ahrefs Plans for 7 days @ 7 USD. | Excellent for backlink analysis, Good Keyword tool |
| Moz - Try Moz here. | Large variety of useful tools, Cloud-based |
| SerpStat - Try Serpstat here. | Includes all major features like KW research, backlink analysis, rank tracking, site audit. Cheaper plans than Ahref and SEMRush |
| Accuranker- Try Accuranker here. | Focused Keyword ranking tool |
| Majestic- Try Majestic here. | Focused backlink analysis tool, Richest understanding of websites backlinks |
| KWFinder - Try KWFinder here. | Focus on Keyword Research and analysis, Good for long-tail keywords |
| SERanking - Try SERanking here. | All in one software, Great price, Strong KW research |
| DeepCrawl - Try DeepCrawl here. | Cloud-based website crawler to identify issues with site and site audit |
| ScreamingFrog - Download Screaming Frog here. | Desktop based site crawler software |
| SpyFu - Try SpyFu here. | Great competitive intelligence tool, Spy on all competitor activities |
| LongTailPro - Try LongTailPro here. | Keyword research tool, Keyword competitiveness score |