SEMRush is a popular SEO tool used by many folks in the SEO industry. SEMRush has now also introduced a tool named 'SEMRush Sensor' out of its beta mode which we'll have a look at today.
SERP or Search Engine Results Page Analysis is an important factor measured for SEO performance and if one pays close attention to the results, one may notice the normal fluctuations in rankings of one's search results. With the help of this fluctuation data, SEMRush's Sensor can now provide us updates on the Google Search Algorithm. Let's have an in-depth look at what exactly SEMRush Sensor is, and how can we use it for SEO management.
SEMRush Sensor Explained: What is SEMRush Sensor
SEMRush Sensor is a search engine analysis tool created by SEMRush that helps one keep informed on the fluctuations of Google's search Algorithms. This tool tracks and analyses the changes in SERP or Search Engine Page Result ranks and try to detect any changes in Google's algorithm (as well as Baidu in China). A sensor score out of 10 is then assigned to gauge the volatility.
Search Engines like Google or likes may make changes to certain features such as specific types of searches, regions, or to the general algorithm that impacts all types of search results globally. SEMRush Sensor has built its database in various regions to track these fluctuations.
The currently tracked regions by SEMRush Sensor include the below geographical regions.
United States
United Kingdom
Germany
Italy
Spain
France
Australia
Japan
Along with Google's algorithm changes, SEMRush Sensor also tracks Baidu- the most used search engine in China.
The fluctuations are further classified and tracked under Desktop and Mobile SERP results as well.
The live view or sensor score out of 10 for today in the US region for desktop-based results is as below.
Live Sesnsor score for US here
Similarly, the SEMRush sensor score today in the Australian region for mobiles is as below.
Live Sesnsor score for AU here
SEMRush Sensor ranks volatility out of 10, a score of 10 being the most volatile.
SEMRush sensor also publishes any changes in specific SERP features such as Shopping results, Top stories, Instanced answers, Ads, Featured snippets etc.
What is SEMRush Sensor used for?
SEMRush sensor helps you monitor the volatility in the results and find any changes to Google or other supported search engines update.
Some of the uses of SEMRush Sensor are as below.
1. Detect or track Google Search Engine Algorithm updates
Not all Google's updates are announced on the Google's Webmaster blog. With the help of SEMRush Sensor, one can monitor these changes and learn of potential SEO strategies that can be deployed to improve one's ranking.
For example, below is the chart for volatility for the last 30 days.
The Google symbol at the bottom of the chart refers to high volatility where the monthly Google Update took place.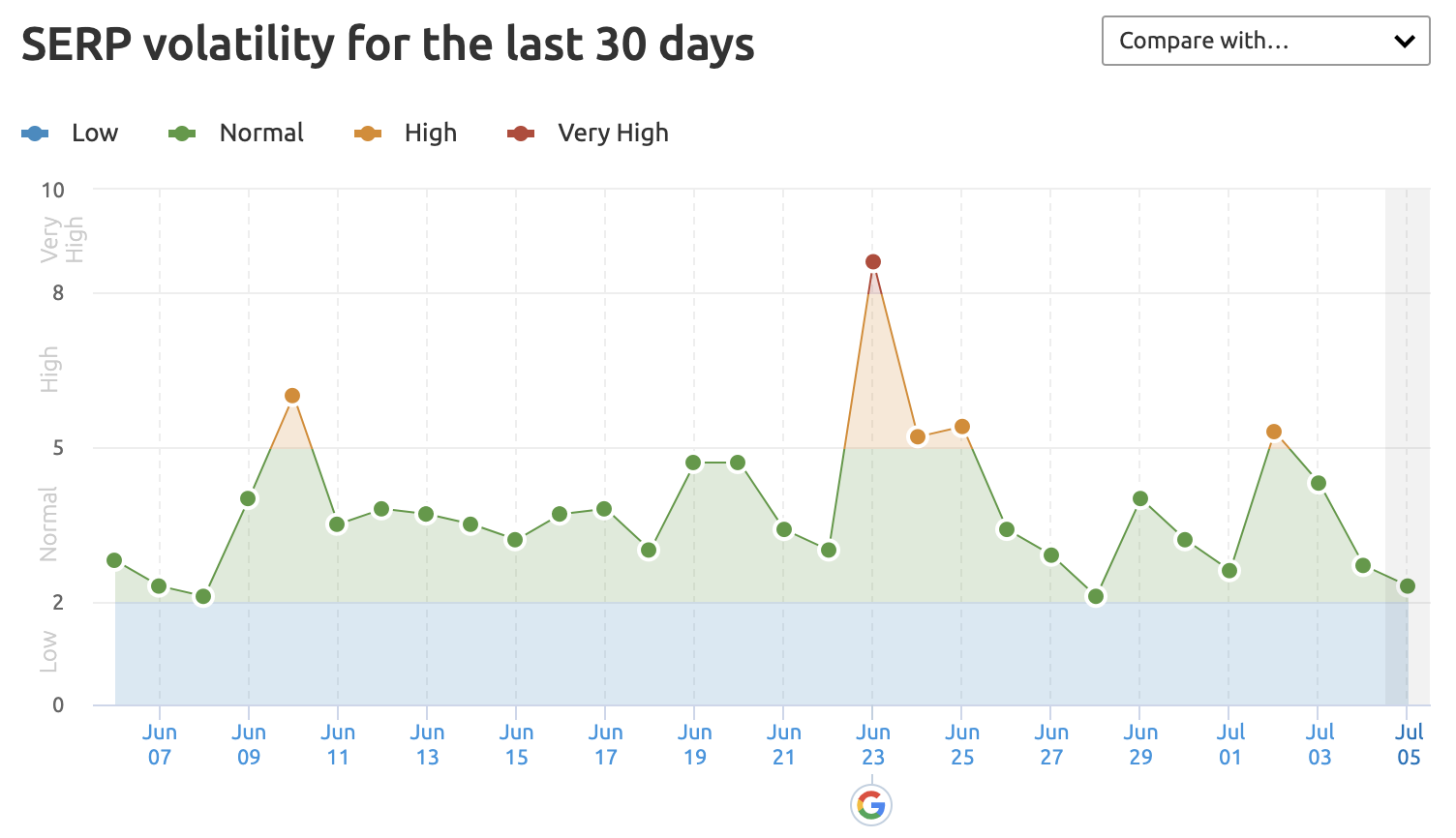 2. Monitor changes and occurrences of specific SERP features
SEMRush Sensor also monitors changes and the contribution of specific search results that show up in the top results. These include the likes of:
Featured Snippets
Local Pack
Shopping Results
Knowledge panel
Top Stories
Instant Answers
Top Ads
AMP Usage
HTTPS Usage
For example, in the below result from SEMRush Sensor, the percentage of the SERPs where the features appear in the top 20 results. We see that the Knowledge Panel feature powered by Google's database that gathers information from a variety of trustworthy sources forms 28.75% of the results on the day this screenshot was analyzed. Also, about 13.99% of the results in the top 20 seem to be AMP based.
3. Monitor deviations for categories from average monthly volatility
With the help of the SEMRush sensor's Deviation tool, one can measure the difference between the volatility for a certain day to the average monthly volatility.
This measurement lets us understand which search categories are unstable for the given day.
The deviation of a certain category can be classified as Normal deviation, Moderate deviation, or Critical deviation with respect to the average monthly.
For example, In the below screenshot, we see that the Real Estate category had a normal deviation with respect to the average monthly deviation. Similar was the case with Food & Drink, Books & Literature category, etc.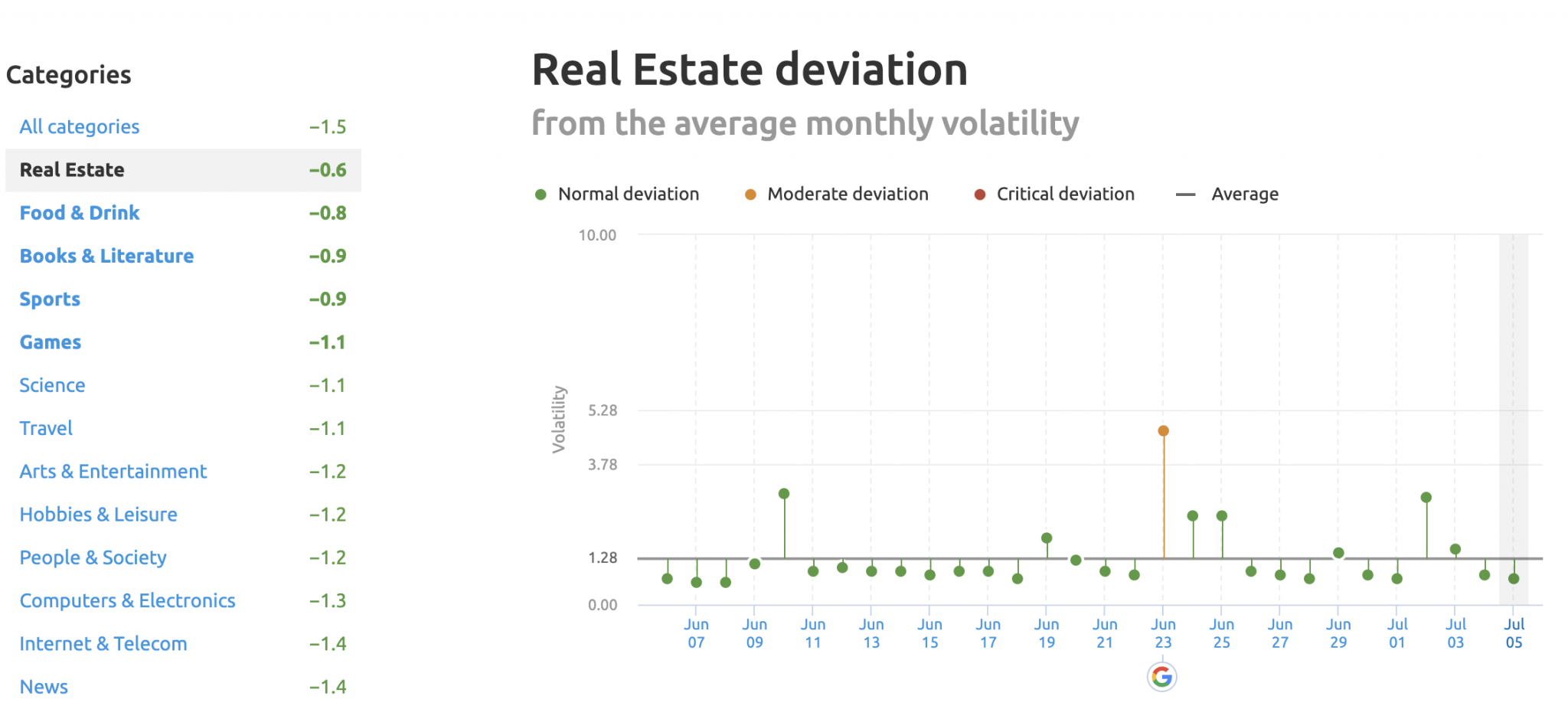 4. Monitor Winners and Losers
SEMRush Sensor also monitors the average moment of tracked URLs in the top 20 search results. Based on these fluctuations in positions, and the limited set of keywords tracked by Sensor the top winners and losers are surfaced by the SEMRush sensor.
This type of data can be used to analyze the types of domains that gained or suffered the most losses due to updates.
For example, in the below chart below are the top 5 domains winners for the day this was grabbed in the Sports category.

5. Monitor score of personal projects
With the help of SEMRush Sensor, one can sign up to monitor the scores of personal URLs that one wants the sensor to track.
This will help you keep your projects well updated with respect to fluctuations from the search engine. Monitoring personal projects with specific keywords seems to provide accurate results.
Where does SEMRush Sensor get its data from?
Tools like SEMRush maintain a large database by crawling various sites. To be specific SEMRush Sensor as a tool uses some of these keywords and measures the per-item comparison of changes for today vs yesterday.
Based on the massive database of keywords SEMRush has gathered, generating the Sensor data every day should be feasible.
According to their website, the difference for SEMRush Sensor is calculated by using the Levenshtein distance metric.
How to use SEMRush Sensor to monitor changes in Google search Algo and impact on personal projects
With the help of SEMRush Sensor, you can sign up for a notification for any fluctuation from the search engines on your personal projects.
This can be done at the Personal score tab on the SEMRush Dashboard.
The overview of fluctuations for all categories is available here.
With the help of the various charts available for categories, deviations, and winners and losers, one can understand the recent changes in search engine updates.
How much does SEMRush Sensor cost?
SEMRush sensor for personal projects is included in the SEMRush tool. When you sign up for SEMRush, you get access to the sensor tool for personal projects.
The generic data from Sensor is however open to all.
SEMRush costs 99USD per month, 199USD per month, and 399 USD per month for Pro, Guru, and Business Plans. The annual plan offers a further 16% discount on the monthly prices. Read more about SEMRush vs other tools.
Other ways to keep updated with Google Algorithm changes
Google's Webmaster blog frequently announces Google's changes as well as tips to improve one's site from an SEO perspective.
Other recommended sites for Google's Algo updates are Search Engine Land as well as Google SearchLiaison.