Many users are now using email hosting services like GSuite, Office 365, etc for their personal emails. Even more small businesses are seeking solutions to their email hosting and work productivity suite. As such many alternatives to the big players like GSuite or Office 365 are available in the market.
GSuite and Office 365 are productivity suites, meaning these providers offer not only business email hosting but also other tools like office communications, file-sharing or hosting, phone or video calls, integration with other applications, etc. Some users may seek all such features while others seek only business email hosting. We'll have a look at the below alternatives and also identify them for best business email hosting alternatives or business productivity suite alternatives.
Alternatives for Business Email vs Business Productivity Suite.
If you are confused over business email hosting or business productivity suite, we'll explain them here. This will help you understand which of the suggested options are best alternatives for GSuite or Office365 for your needs- either just email hosting or the complete suite. Move on with the alternatives section, if you are well versed with this concept.
For absolute beginners, Emails are nothing but files containing the message that is sent to a particular server which is identified by an email address. When you sign up for personal email at Gmail or Hotmail, you are allowing these companies to store these email messages.
Now, when it comes to hosting your business emails or personal emails with GSuite or Office 365, you are asking these business email providers to store these emails for you. Also, the email address using your custom domain name (e.g., abc@your_company) is then attached to these servers so that the emails sent to that particular address gets stored on those servers.
When it comes to business email hosting, many companies provide these services for a much cheaper cost. This ideally only includes "Email hosting". If you are only looking at hosting email, you should be signing up for Business Email hosting.
On the other hand, various providers have identified that most businesses do need other tools for their day to day productivity as well. Some of these tools are hosting files on their server so that one can access them from anywhere or chat tools to improve communications between various users of the business. The list of such options and tools that can be used goes on and on.
Business Productivity suites include most of these common tools. For example, GSuite Productivity tool offers Google Drive, Google Meet, Google Chat, Google Forms etc along with Business email hosting.
Now that we have understood the difference between business email and business productivity suite, you can make an informed decision on what could be a better alternative. In cases where you are just looking for Business email hosting, we would also suggest that you do look at the Business productivity features, so that you could easily upgrade if the need arises.
On the other hand, it is also important to note, that information and app overload does hurt productivity and focus. There might be cases where your business would be just as productive with lesser apps. A simple business mail hosting may suffice when your business does not need the whole business suite of apps offered by some providers.
| Business Email Hosting | Business Productivity Suite |
| --- | --- |
| Lets you host your emails ideally with your business domain name | Lets you host business email as well as provides productivity tools like File Hosting, Chat or Instant Message communications, Document editing, Integration with third-party tools, etc. |
When it comes to the top contenders for Business Productivity Suite, it is no doubt that Google's GSuite and Microsoft's Office 365 are the top two alternatives to each other. These provide world-class business hosting as well as the familiar productivity suite of Google Sheets, Docs, Microsoft Word, Powerpoint, etc. You can read an in-depth article where we compare GSuite vs Office 365.
Let's have a look at various other alternatives for GSuite or Office 365
1. Zoho Workspace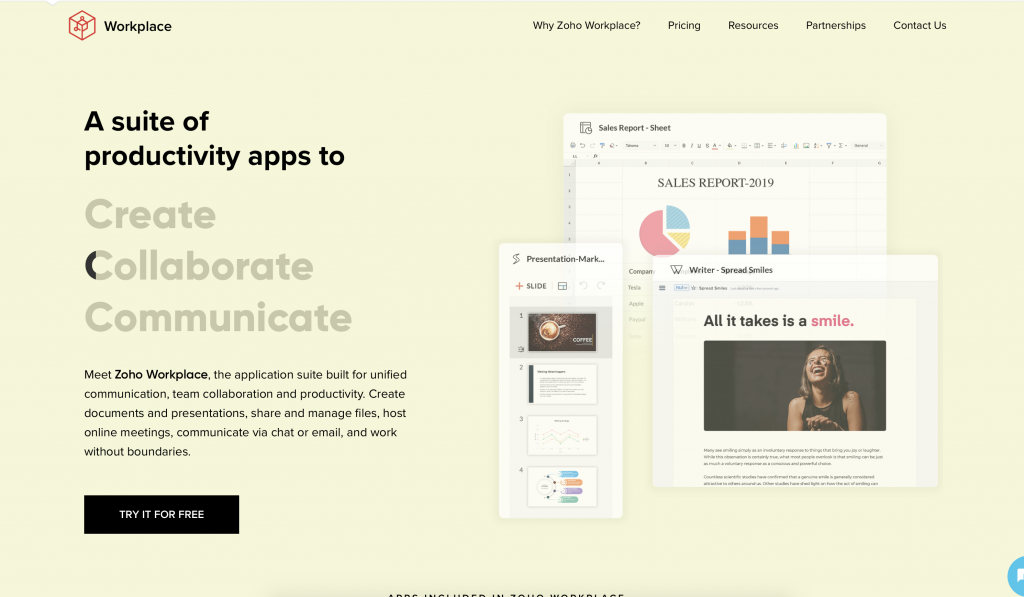 Zoho Workspace is a Business Productivity Suite offered by ZohoCorp and they have been a strong contender in this business. Zoho began as a product of AdventNet Inc which was established in 1996 and has been in this business for quite long.
Zoho's Workplace contains a suite of productivity apps to help users create, collaborate, and communicate. The apps included in Zoho Workspace are:
Zoho Business Email hosting
File Management with Zoho Workdrive
Chat Application also known as Zoho Cliq
Spreadsheet known as Zoho Sheet
Word Processor known as Zoho Writer
Presentation, also known as Zoho Show
Social Intranet, also known as Zoho Connect
Online Training with Zoho ShowTime
Online Meeting with Zoho Meeting With these sets of applications, your business teams can get started quickly with productivity apps. Zoho Workplace offers two-tier of plans namely Standard and Professional and the cost of each are as below.
| | Zoho Standard Plan (Cost per month/ per user) | Zoho Professional Plan (Cost per month /per user) |
| --- | --- | --- |
| Monthly Plan | 4 US$ | 7 US$ |
| Annual Plan | 3 US$ | 6 US$ |
**Annual Plan- You pay for 12 months in one go.
With respect to the differences in the Standard and Professional plan, one gets the below benefits.
| | Zoho Workspace Standard Plan | Zoho Workspace Professional Plan |
| --- | --- | --- |
| Email Storage /user | 30 GB | 100 GB |
| Workspace Drive/ File Storage | 5 GB | 100 GB |
| Email- Multiple Domain hosting | Yes | Yes |
| Email Backups | | Yes |
| Huge Attachments in Email | | Yes |
| Calendar | Yes | Yes |
| External links for file sharing | | Yes |
| Zoho Office Suite | Yes | Yes |
| Zoho Cliq (Chat, Video, Audio calls) | Yes | Yes |
| Zoho Online Meetings | | Yes |
| Zoho Connect Social Intranet | | Yes |
| Zoho ShowTime Online Training | | Yes |
If you are not interested in the vast features of Business Productivity Suite, but would prefer Business Email Hosting only, then Zoho also provides ZohoMail as a standalone service.
Zoho mail includes Email hosting for multiple domains, offline access, IMAP & POP access, Mobile apps for iOS and Android as well as Calendar features. Zoho Mail also provides good security include Two-factor authentication.
The two plans for Business emails from Zoho are Zoho Mail Lite and Zoho Mail Premium and are way cheaper than GSuite or Office 365. Mail Lite provides 5GB of storage per user per month whereas the Mail Premium plan includes 50GB of storage per user per month.
Zoho Mail provides free 15 days of trial for the mail premium plan without any credit card details as well as a money-back guarantee per their refund policy.
2. NameCheap Business Email Hosting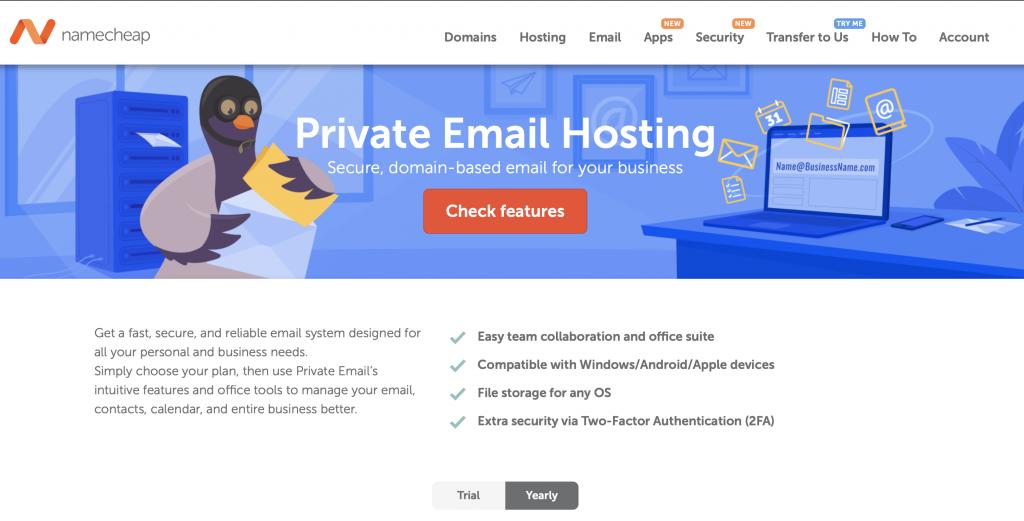 Namecheap is a popular domain registrar that offers Business Email Hosting as well. Namecheap boasts of its high-quality security. 2FA or Two Factor Authentication services can also be easily integrated with NameCheaps' Private Email service.
Namecheap's Customer service team is available 24/7 for support and also applauded for their professionalism as well as knowledge in the business.
Namecheap's Business Email service includes the below features.
Secure Webmail
Secure Email storage
2-Factor Authentication or 2FA (U2F & TOTP)
Anti Spam Protection
SMTP, IMAP, POP3 Support
File Storage
Spreadsheet and Presentation (Only on the Ultimate plan)
The three plans offered by NameCheap Email Hosting are:
Starter Plan- With 1 Mailbox, 10 Aliases and 5 GB Storage
Pro Plan – With 3 Mailboxes,50 Aliases and 10GB Storage
Ultimate Plan- Includes 5 Mailboxes, Unlimited Aliases, 15 GB Storage as well as Spreadsheet and Presentation support.
NameCheap is currently offering 60 days or two months of free trial.
Try Namecheap Business Mail for free now
3. RackSpace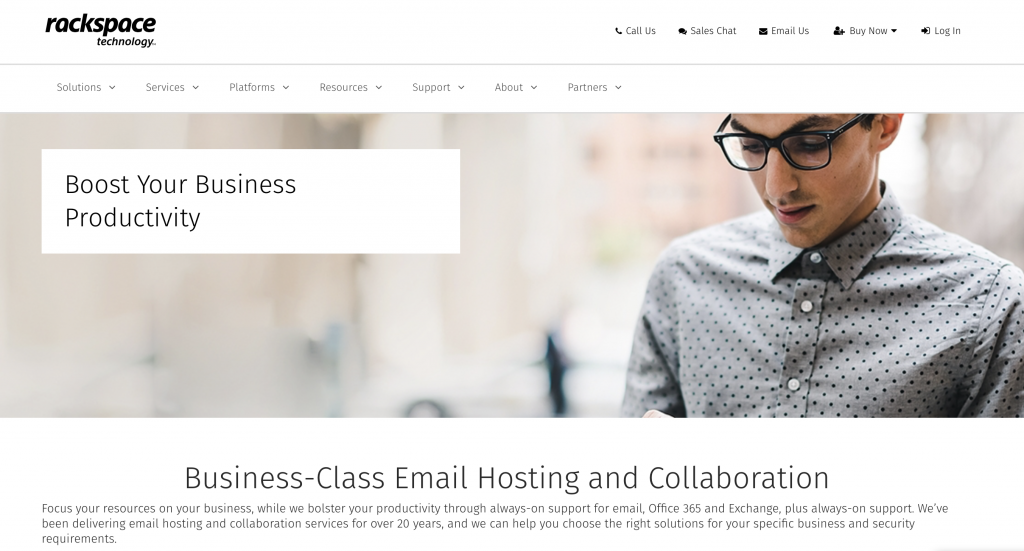 Rackspace Technology is a popular Cloud service provider and offers multiple variants of Business Email Hosting.
Rackspace has partnered with Microsoft to host Microsoft Office 365 for its customers. In other words, you can let Rackspace manage the Business Suite for you and yet receive tools from Microsoft such as Word, Excel, Powerpoint, Outlook, etc.
If you need Rackspace along with its excellent customer support to handle the technical aspect of Business Email for you, but yet wish to use Microsoft's offering then this is an excellent choice.
Try Rackspace Microsoft 365 Plan
Just like Namecheap, Rackspace also offers Email hosting at a much cheaper price which does not include Microsoft Office. Rackspace Hosted Email Plan offers two plans- Rackspace Email and Rackspace Email Plus. These include the below features.
Webmail as well as Outlook Client and Mobile Access
Premium Spam and Virus Protection
25 GB Mailbox
Unlimited Email Aliases
With the higher Plus plan, the below features are also included
30 GB File Storage
Mobile ActiveSync
Shared Calendar and Contacts
MS-Office Compatible Apps
Instant Messaging or Chat application
Email Archiving (Extra purchase over the Plus plan)
Rackspace Email offers a free 14-day trial.
4. FastMail
Fastmail is a Business email hosting service with a unique selling point of being Privacy-focused.
If you are not looking for a complete Business Productivity Suite but just email and calendar hosting for your personal or business emails, then Fastmail can be another fantastic choice.
Fastmail is privacy-focused and does not mine your data for advertisements. They promise no monetization based on your email content, unlike few other competitors. Fastmail includes Emails, Calendar, and Contact management.
Fastmail also includes apps for your phone and tablet, superior spam blocking builtin as well as very swift and thoughtful webmail interface.
Fastmail offers three plans namely- Basic, Standard, and Professional- however, the basic plan does not allow setups with your domain. This means, for business emails, one may have to either opt for the Standard or Professional plans.
All Plans provide the below features:
Ad-free email
Full-featured calendars
Contact lists and groups
Mail import tool
Support
Administrative controls
The standard and Professional plan further includes:
Setup with own domain names
Snooze email feature
Calendar groups
The Professional email further also include Archiving features- so one can easily archive or backup the emails. The professional plan includes 100GB of storage, followed by 30 GB for the standard plan and 2GB of storage for the basic plan.
If you are looking for a simple, privacy-focused email service with an excellent app, we would highly recommend Fastmail.
Fastmail is currently offering a 30-day free trial.
5. ProtonMail
ProtonMail is another privacy-focused Business Email hosting provider – a Swiss company, which focuses on end-to-end encryption of your emails.
Like FastMail, ProtonMail also provides Android, iOS, and Web apps.
ProtonMail boasts of the below features:
Servers are located in Switzerland, meaning all the data is well protected by Swiss privacy laws
Emails are protected with end-to-end encryption with zero-access encryption which means no one other than you can read those emails
No IP logs are stored and no personal information is required.
Productivity focused Protonmail app is included.
ProtonMail provides Free, Plus, Visionary, and Professional plans where all except the free plan allows setup with your domain name.
The professional plan where you can use encrypted email across your whole company will cost 6.25 € /Month/User.
Proton Mail is also open-source, meaning anyone could check their code and verify any claims.
Get started with Protonmail here
Choosing your GSuite or Office 365 Alternative
GSuite and Office 365 are great Business Productivity Suite and we do recommend them. However, for someone who is looking at cheaper options or just the pure Business email hosting service, the alternatives above are excellent choices too.
To summarise and if we had to define the GSuite and Office 365 alternatives, we would say the below about these alternatives.
If data privacy is also your concern, you would also like to check Virtru, a tool that helps you encrypt emails and attachments.